Honors Recital Highlights
November 13, 2016
Two outstanding Honors Recitals presented talented students of MEA teachers at the Randolph Performing Arts Center at The Music Den in Randolph on Sunday, November 13. Of the 68 students who auditioned at Wharton Music Center in New Providence the previous Sunday, 41 soloists, two duets, and one trio were selected as Honors winners to perform in one of two recitals, at 4 p.m. and 6:00 p.m. MEA graciously thanks the Wharton Music Institute for the use of their facility for the auditions, and the Music Den in Randolph for the use of their attractive Performing Arts Center for our recitals. Thank you to dedicated committee members Sallie Lloyd, Ruth Pasquariello, and Charlene Step for their invaluable work, and to all those who contributed to making these recitals special to the performers, their parents, teachers, and friends.
MEA proudly lists the following Honors students and the pieces they played at the two recitals at the Randolph Performing Arts Center.
4 PM Recital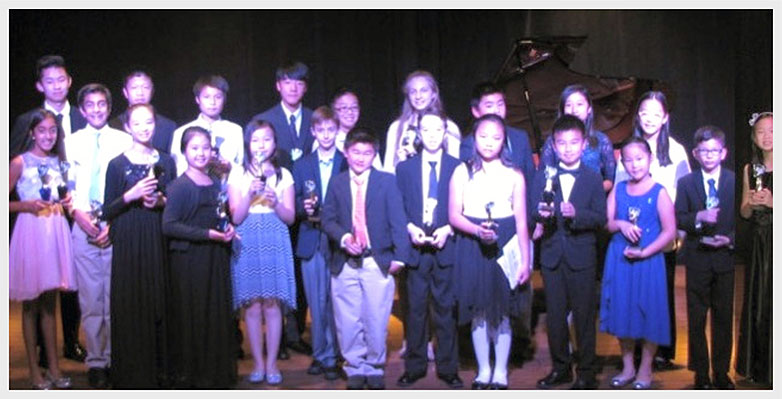 Honors Recital Program - 4 p.m.
Gavin Parikh
Miniature, Op. 8, No. 7
Goedicke
Tiffany Yang
Gachou no Koushin
Kaneda
Joyce and Emily Hwang
Robin Redbreast, Op. 47, No.2
Beach
Robert Sun
The Little White Donkey
Ibert
Sophia Wu
Rondo in G Major
Alexander
Austin Mau
Four Variations on a Theme by Paganini
Labunski
Caitlyn Huang
Rondo in B Flat Major
Pleyel
Zara Yu
Song of the Lark, Op. 39, No. 22
Tchaikovsky
Sejal Patel
Hungarian Dance, Op. 39, No. 9
Reinhold
Sophia Lee
Sonatina in C Major, Op. 36,
No. 3, 1st mvt.
Clementi
Jessica Gao
The Knight Errant, Op. 100, No. 25
Burgmüller
Franklin Mau
Sonata in D Major, 1st mvt.
Haydn
Conor Hampton
Toccata
Shurovsky
Sejal and Sahdev Patel
Sonatina in C Major
Weber
James Grant
Sonata Op. 14, No. 10, 3rd mvt.
Beethoven
Sasha Shefter
Praeludeum in E minor
Mendelssohn
Jeddy Xie
Sonata, Op. 10, No. 5, 1st mvt.
Beethoven
Sho Ogino
Clair de Lune
Debussy
Liwen Zhou
Prelude in D Flat, Op. 34, No. 15
Shostakovich
Kenneth Le
Morceau de Fantaisie in G minor
Rachmaninoff
Noah Chen
Toccata from Pour Le Piano
Debussy
6 PM Recital
Honors Recital Program - 6 p.m.
Joanna Liu
Indian Pony Race
Glover
Helena Kim
Theme and Variations in C Major
Haydn
Zoey Wen
The Little White Donkey
Ibert
Jocelyn Chen
Avalanche, Op. 45, No. 2
Heller
Emma Zheng
Etude Allegro
Nakada
Justin Zhang
The Sapin, Op. 75, No. 5
Sibelius
Aadhithyaram Balaji
Allemande in A minor
Handel
Emily Wei
Tarantella
Pieczonka
Maya Lily Knoller
Two-Part Invention in E Major, No. 6
J. S. Bach
Alyssa Laze
Polonaise BWV Anh. 125
C. P. E. Bach
Faith Tan
Sonatina in F, Op. 151, No. 3, 1st mvt.
Diabelli
Emma Lau
Sonata in C minor, III-Presto
Pescetti
Samantha Howden
Sonata in C, Hob XVI/1, 1st mvt.
Haydn
Joshna Iyengar
Birmingham Blues
Mier
Sophia Kim
Etude in B Flat minor, Op. 104, b, No. 2
Mendelssohn
Kaitlyn Vuong, Rene Zhang,
and Kylie Bill
Blue Danube Waltz
Strauss/Garci
Rebecca Hsiao
Passepied
Debussy
Leon Wang
Sonata in G Major, Finale: Presto
Haydn
Gloria Liu
Sonata in E minor, Op. 7, 1st mvt.
Grieg
Yulia Kuzniar
Visions Fugitive, Op. 22,
Nos. 5, 6, 8, & 9
Prokofiev
James Gao
The Girl with the Flaxen Hair
Debussy
Kyle Mazer
Bagatelle, Op. 5, No. 10
Tcherepnin
Leigh Wang
Sonata in D Major, Op. 40, No.3
Clementi
Congratulations to the following teachers whose students were awarded Honors:
Azar Gordon, Barbara Landi Hause, Mansoon Kim, Sherry Lai, Chuanyin Lee, Marlene Lippman, Florence Liu, Beatrice Long, Marcia Maull, Sophia Ososkov, Sondra Tammam, Hsingju Tseng, Yuka Yanagi, and Stella Xu
MEA Honors Recital Committee:
Marlene Lippman - Chair, Sallie Lloyd, Ruth Pasquariello, Charlene Step.