Honors Recital Highlights
November 12, 2017
An increase in the number of applicants this year and in the number of students selected to perform resulted in our presenting three Honors Recitals for the first time, instead of the usual two! Programs for the three recitals, presented at 3:00, 4:30, and 6:00 at the Randolph Performing Arts Center of The Music Den on Sunday, November 12, are listed below. MEA congratulates our 52 solo and 11 ensemble winners and their dedicated teachers!
MEA graciously thanks the Wharton Music Institute for the use of their facility for the auditions, and the Music Den in Randolph for not only providing a perfect performance space, but also accommodating our need for extra time at short notice. Thank you to dedicated committee members Sallie Lloyd, Ruth Pasquariello, and Charlene Step for their invaluable work, and to all those who contributed to the success of this event, making these recitals special to the performers, their parents, teachers, and friends.
3pm Recital
3pm Program
Preston Wang
Allegretto in C Major
Neefe
Jordan Guo
Sonatina No. 1, 3rd mvt.
Latour
Ella Chai
Elizabeth's Lullaby
Alexander
Alyssa Wang
Scherzo
Weber
Justin Zhang
Sonata, Op. 49, No. 1, 2nd mvt.
Beethoven
Zoey Wen
Consolation No. 2
Liszt
Jessica Gao
Solfeggietto
C.P.E. Bach
Vicky Yang & James Cao
Rondo for Four Hands Op. 163, No. 6
Diabelli
Jennifer Jang
Sonata, Hob. XVI:23 1st mvt.
Haydn
Emma Lau
Sonatina in E-flat Major Op. 19/20, No. 6, 1st mvt.
Dussek
Alexander Dong
Sonatina, Op. 13, No. 1, 3rd mvt.
Kabalevsky
Aadhithyaram Balaji
Sonatina in B-flat Major 1st mvt.
Diabelli
Christina Huang
Sonatina in C major Op. 36, No. 3, 1st mvt.
Clementi
Sharanya Devarakonda
Sonata, K. 545, 3rd mvt.
Mozart
Sophie & Helen Makus
Galop, Op. 266, No. 1
Becucci
Sahdev Patel
Folia
Scarlatti
Lauren Jang
Valse Romantico, No. 3, from Linterna Magica, Op. 101
Turina
Isabella Velucci
First Arabesque
Debussy
Jennifer Cao
Tarantella
Pieczonka
4:30pm Recital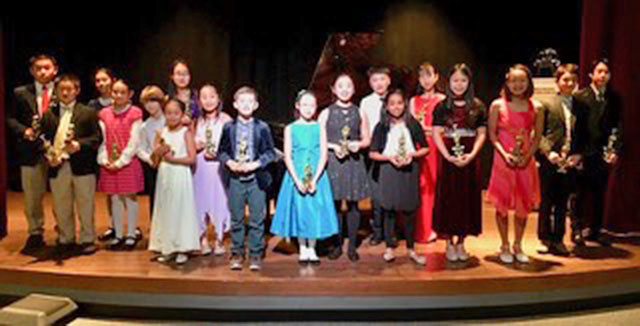 4:30pm Program
Veralyn Yang
Asian Tiger Prowl
Hall
Nathan Luybarsky
Rondo in C Major
Mozart
Jonathan Bondarchuk
Night Train
Goldston
Tiffany Yang
Polnisches Lied Op. 117, No. 18
Heller
Helena Kim
Six Variations on the Duet Nel cor più non mi sento
Beethoven
Austin & Franklin Mau
Hungarian Dances, No. 5
Brahms
Ivory Piskula
Angel Voices Op. 100, No. 21
Burgmüller
Radha Pingle
Rock Zone
Vandall
Annie Li
Elfin Dance Op. 12, No. 4
Grieg
Austin Mau
Sonatina, Op. 13, No. 1, 3rd mvt.
Kabalevsky
Christine Peng
Sonatina in G Major Op. 36, No. 5, 3rd mvt.
Clementi
Avery Kim
Dizzy Fingers
Confrey
Franklin Mau
Two-Part Invention, No. 13
J.S. Bach
Sophia Kim
Mazurka, Op. 7, No. 3
Chopin
Ivory & Iris Piskula
Pavanne from American Symphonette No. 2
Gould
Sheldon Yoon
Doctor Gradus ad Parnassum
Debussy
Katherine Wu
Witches' Dance Op. 17, No. 2
McDowell
Rebecca Hsiao
Sonatine, 1st mvt.
Ravel
Evan Wang
Sonata, K. 331, 3rd mvt. - Alla Turca
Mozart
6pm Recital
6pm Program
Anthony Zhuang
Children at Play from "For Children", Vol. 1
Bartok
Eric Guo
Sonatina in F Major 2nd mvt.
Beethoven
Aayush Bhakey
Sonatina, Op. 36, No. 5, 3rd mvt.
Clementi
Joyce Hwang
Reverie from "Album for the Young", Op. 39
Tchaikovsky
Zara Yu
Sonatina, Op. 13, No. 1, 3rd mvt.
Kabalevsky
Alexander Howden
The Great Smoky Mountains
Glover
Emma Zheng
First Arabesque
Debussy
Joyce Hwang, Emily Hwang & Sophia Lee
12th Street Rag
Bowman
Grace Zhang
Courante
Handel
Tiffany Yang
Nocturne, Op. 9, No. 1
Chopin
Emily Hwang
Dance on the Holiday from "Suite for Children"
S. Ding
Sophia Lee
IL Penseroso, Op. 45, No. 16
Heller
Niyati Kasnyap
L'orage (The Storm) Op. 109, No. 13
Burgmüller
David Andrews
Presto Vivo
Cecere
Ton Rattanasoontorn
Sonatina, 1st mvt.
Khachaturian
Sophia Chang
Valse Oubliée in F# minor, No. 1
Liszt
Jamie Shou
Three Fantasias on Caprices Op. 16, No. 1
Mendelssohn
Caitlin Samson
Sonata in C# minor, Op. 27 No. 2 (Moonlight), 1st mvt.
Beethoven
Noah Chen
Rigoletto
Liszt
Congratulations to the following teachers whose students were awarded Honors:
Sophia Agranovich, Dr. Lorraine Butterfield, Carmela Cecere, Rebecca Eng, Azar P. Gordon, Amanda Harberg, Barbara Hause, Mansoon Kim, Michelle Kim, Dr. Julia Lam, Chuanyin Lee, Marlene Lippman, Florence Liu, Elizabeth Martyn, Dr. Thomas Parente, Sondra Tammam, Grace Tseng, Stella Xu, Yuka Yanagi, and Ying Zhang
MEA Honors Recital Committee:
Marlene Lippman - Chair, Sallie Lloyd, Ruth Pasquariello, Charlene Step.