MUSIC, SHE WROTE
Presented by Rebecca Eng, Vicky Griswold, Anna Katznelson, Barbara Landi Hause & Beatrice Long
An enthusiastic group of listeners was treated to the fascinating presentation of "Music, She Wrote," which highlighted the lives and music of five women composers.
Maria Szymanowska
Vicky Griswold opened the program with the elegant and sophisticated Maria Szymanowska (1789-1831), who had been a student of John Fields, a contemporary of Frédéric Chopin, and who later became the court composer in Russia. She made notable contributions to the form of the nocturne. Vicky performed Szymanowska's moving Nocturne in B-flat.
---
Lili Boulanger
Anna Katznelson spoke about Lili Boulanger, (1893-1918), who produced an abundance of hauntingly beautiful music in her tragically short life. In addition to performing part of Boulanger's Trois Morceaux pour Piano, Anna used YouTube to share short portions of some of Boulanger's works for voice and orchestra.
The audience would have loved to hear more. Now you can do that just by clicking on these links:
---
Florence Price
Vicky Griswold continued with Florence Price (1887-1953), the first Black American woman composer to achieve national recognition and success. Price had a great influence on the composers who followed. Vicky performed the second movement of Price's Sonata in E Minor.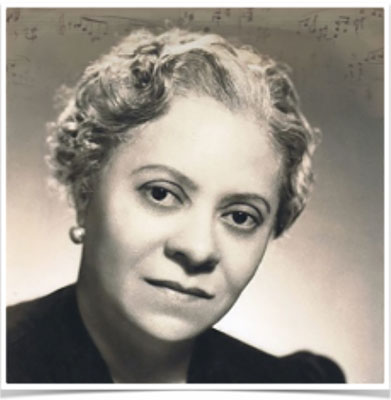 ---
Germaine Tailleferre
Rebecca Eng spoke about Germaine Tailleferre (1892-1983), the modest, unassuming, but enormously talented woman who became the only female member of the famous group of French composers known as "Les Six." Illustrating the depth and diversity of Tailleferre's music, Rebecca treated the audience to performances of Tailleferre's Impromptu; Pastorale (1919); "Jasmine," " Morning Glory," and "Poppy" from Flowers of Provence: Eight Easy Pieces for Piano; and "Allegramente" from Partita for Piano. Rebecca also commented that the Eight Easy Pieces for Piano were appropriate for students.
---
Margaret Bonds
Barbara Landi Hause began the final feature: the life and music of Margaret Bonds (1914-1972), a Black American composer who had been a student of Florence Price and a close friend of the poet Langston Hughes. Bonds had a successful career. She often found inspiration in the music of the spirituals, those songs of hope and longing created by Black slaves before the Civil War. Barbara performed "In the Valley of the Bones," the opening number of Bonds' Spiritual Suite. Beatrice Long ended the meeting with a performance of "Troubled Water," the final number of that same suite.
Writer, Barbara Landi Hause
Layout, Joan Bujacich